Testimonials
Laura Merzetti is a fantastic nail technician as well as an outstanding educator. For anyone looking to learn the art of gel nails, Laura is someone you want to talk to. Laura is very professional and extremely creative allowing students to feel comfortable and excited to learn.

"You are a great instructor and I appreciate so much, everything I have learned from you. Thank you for helping me build my confidence and for always providing the support I need. I know my success so far is only because I had a great teacher."

I would highly recommend Laura Merzetti to anyone I know.

Julie Lindley
Brooklin, ON
I've recently completed the Beginner Gel Nail Course at Scratch My Back Nail Studio and can't say enough about my positive experience! Laura Merzetti is a highly skilled nail technician both technically and artistically, and is also a clever business woman, teacher and role model. She supplied excellent learning materials as well as all of the products needed to complete my course. She reviewed each chapter thoroughly, demonstrated each nail service, coached me and instilled confidence in me while I worked and was always available to me outside of class when I had questions. I teasingly refer to Laura as "The Nail Yoda" but the title truly fits! Excellent course and I can't wait to learn more.
Jennifer Patterson-Wong
Oshawa, ON
Nail Enhancement Programs
PLEASE NOTE: IN-STUDIO CLASSES ARE SUSPENDED FOR THE DURATION OF THE COVID-19 PANDEMIC.
All classes are conducted on-site in the studio. Class sizes are small to ensure students receive enough attention to complete their learning objectives.
Classes are generally held on Mondays during the day. Please contact the studio via email or phone to inquire about booking a course around your schedule.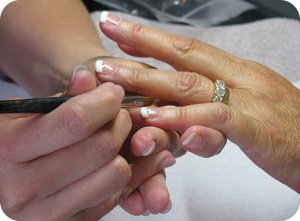 The Beginner Gel Nail Program is open to newly graduated students of a recognized nail or esthetics program, current manicurists or nail technicians seeking to upgrade their skills and learn gel nail application. This 4-day course will teach the basic fundamentals of gel application, finishing techniques and troubleshooting. A theory and practical exam will be required in order to successfully complete the course. Please see the attached course outline for more information and timelines.
The course includes a starter kit, a CND LED lamp, and the student manual (approximate value: $400.00). The course is taught using CND Plexigel. Students will need to provide their own model, or work on each other.
A certificate will be issued upon successful completion of the course.
Cost: $999.00 for class instruction plus $400.00 for class kit, total $1399.00 payable before start of first class.
Duration: 4 days in-class, over 10 weeks
The Minx Advanced Level 1 Training covers basic to advanced application procedures. You will learn how to handle the templates prior to application, correct sizing and detailing. Advice on choosing the right pattern for your client will aid in delivering a service to exceed their expectations. Tips, tricks and troubleshooting will be emphasized to ensure a successful application, every time. Students will need to provide their own model. A certificate will be issued upon successful completion.
Note: Students need to purchase the Starter Kit from www.cheekydiva.ca before booking this training. Training is available in the studio or onsite at your salon (extra charges may apply, please contact the studio for details).
Cost: $75.00 + HST
Duration: 2 hours